About Our Naramata Winery
MOCOJO Winery has undergone significant expansion since we opened the brand in June 2014. The winery initially offered our signature Gewurztraminer and Viognier varietals, but added Marechal Foch and Malbec in the fall of that same year. The winery continued its growth trajectory in the spring of 2015 with the introduction of their Rosé, which proved to be a customer favorite.
In the fall of 2015, we added Merlot to our already impressive lineup.
With the anticipated increase in production from the 2015 harvest we moved the tasting room from the production winery into the B&B space, marking the end of our B&B venture on the vineyard property. We may no longer host sleepovers, but every summer season we welcome thousands of guests to our new tasting space who enjoy our spectacular views and amazing wines.
We invite you to come check it out and book a tasting today!
About Our Family
We are Kon and Dianne Oh and we have been blessed with 3 children. MOCOJO is their initials in birth order. We think it has a nice ring to it. It just worked out that way.
Pretty good planning for not planning at all.
The images in the O's reflect our growing journey so far. We are high school sweethearts from Alberta. It was here that we started growing oriental veggies and then cut roses. Having had enough of horticulture and its challenges on the cold prairie we were looking for a change of scenery. So, we googled vineyards for sale in BC and stumbled upon 5 acres of paradise in a place called Naramata. We purchased our vineyard in 2008 and opened Inn Between the Vines B&B in 2010.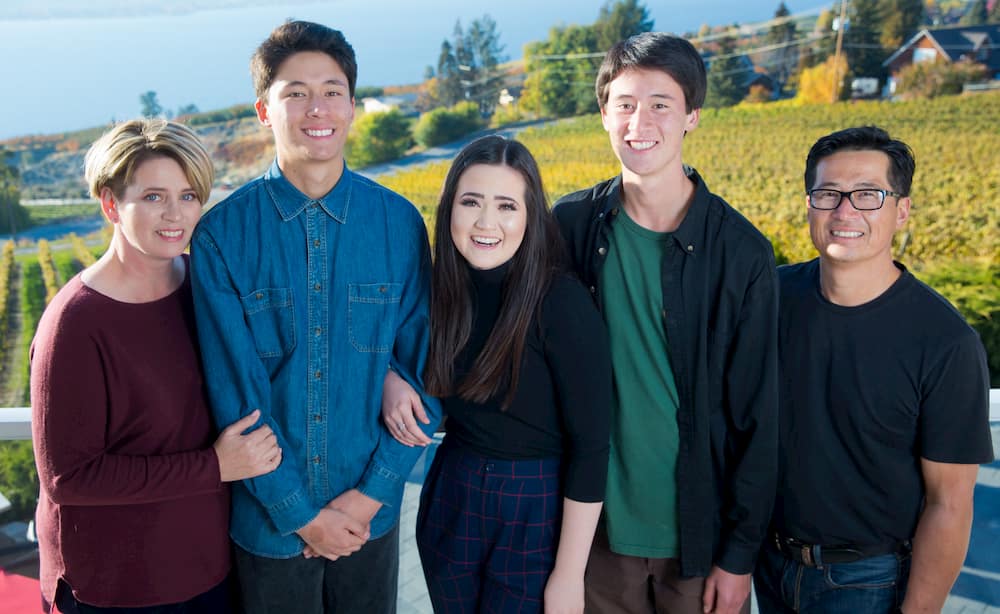 About Our Logo
If you take a closer look at our logo you will notice there are images in the O's. In our life together there has always been a row of something growing. Always a row to finish before dinner can start. For years now this is the conversation. "Kon, dinner is ready". His response "Just let me finish this row" or "Just one more row".
When we were first married we grew oriental veggies – thus the first O is the leaf of the Napa Cabbage – rows and rows of them.
After years of balancing day jobs and long evenings of farming we decided to pursue Kon's dream of growing roses and before you knew it our rose greenhouse was a reality.
Now there were rows and rows of roses. Thus the second O. This was a beautiful living but very demanding as we needed to be there daily – no vacations for our growing family.
Now we tend rows and rows of grapes – the grape leaf in the final O.
Life is Good – One Row at a Time